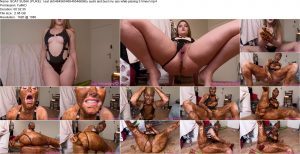 I prepare my rice to make my shitty sushi and during this time I show you my body and my pussy to start to excite you, before coming to lay a huge turd!
I will then create my sushi (I will make 2 beautiful ones) by mixing shit with rice. I'll come and lick it a little and let you taste it first!
Before eating it, I'm going to cover myself in shit (body, face, hair) and suck a little bit of my shitty sushi before tasting!
I'm going to eat several big mouthfuls and swallow them in turn (without cutting during editing) and show you the inside of my mouth after eating!
I'm then going to smear my vomit all over my face, before releasing a big pee in front of the camera and smearing shit on myself again.
I will then play with 3 dildos in my asshole with shit in my mouth; I will use a realistic dildo and 2 XXL dildos (a huge multi-colored one and my prolapsed dildo).
I'm going to alternate between my 3 dildos and in several positions, each more exciting than the other… I'll pee 2 more times in the video!
I will finish by sucking and putting my huge dildos in my mouth, much too big for the latter…!
Tag:Scat,Copro,Shit,Scatt,Shitting,anal,anal poop,poop,ScatXXX,Scat Fist,Fisting Anal,copro scat
Name: SCAT SUSHI (PUKE): I eat sh54645654654654665itty sushi and bust my ass while pissing 3 times!.mp4
Permission: FullHD
Duration: 00:32:35
File size : 2.08 GB
Resolution : 1920 @ 1080

SCAT_SUSHI__PUKE___I_eat_sh54645654654654665itty_sushi_and_bust_my_ass_while_pissing_3_times_.part1.rar – 739.70 MB
SCAT_SUSHI__PUKE___I_eat_sh54645654654654665itty_sushi_and_bust_my_ass_while_pissing_3_times_.part2.rar – 739.70 MB
SCAT_SUSHI__PUKE___I_eat_sh54645654654654665itty_sushi_and_bust_my_ass_while_pissing_3_times_.part3.rar – 718.17 MB
(Visited 699 times, 47 visits today)